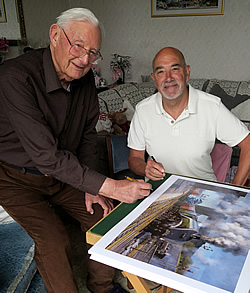 The shape of things to come as the prototype 'Deltic', in charge of a test train to Doncaster, overtakes A4 Pacific No.60003 'Andrew K. McCosh' heading 'The White Rose' express for Leeds and Bradford climbing past Belle Isle towards Copenhagen Tunnel shortly after leaving London, Kings Cross on a bright Spring morning in 1959. A J52 No.68846 shunts in the background. The A4 carried the name 'Osprey' until 1942, was withdrawn from service in December 1962 and scrapped at Doncaster Works. 'Deltic' worked on the East Coast main line from January until November 1959 and, along with No.68846, is preserved as part of the National Collection.
This is a very special limited edition fine art print consisting of 500 numbered prints and 50 artist's proofs, each signed and numbered by the artist. In addition each print is signed by Peter Townend, the last Shedmaster at 34A King's Cross (Top Shed), then Traction and Rolling Stock Engineer, Kings Cross Division, and Richard Hardy former Shedmaster, District Motive Power Superintendent and District Manager, for BR.  Both were Premium Apprentices at Doncaster under Edward Thompson.
Purchase of this print will aid the appeal for the restoration to mainline standard of A4 No. 60007 Sir Nigel Gresley; the restoration and maintenance the production Deltics Alycidon, Tulyar and Royal Highland Fusilier by the Deltic Preservation Society; and the Friends of the National Railway Museum in supporting the ongoing work of the Museum.
A Limited Edition of 500 prints and 50 Artist's Proofs each signed and numbered by the artist.
Print size 25in x 17.5in
Image size 23in x 15in
---